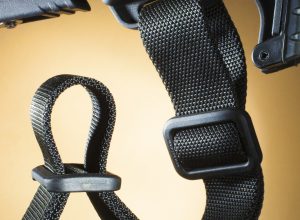 What if we told you that one of the best and most effective accessories for your weapon is a simple strap? People often overlook the benefits of weapon slings or see them only as an optional way to carry a weapon. However, the truth is that a good gun sling can be a multipurpose tool which can significantly improve your weapons handling - it might even replace your need for a bipod or tripod!
Why Every Shooter Should Have A Great Gun Sling
1 - Portability
Let's not overlook the obvious. A gun sling is still one of the single best ways to carry a weapon while leaving your hands free, particularly a larger weapon like a rifle. Plus, slings themselves are quite portable. They fold up into practically nothing, and they're extremely inconspicuous when worn underneath clothing.
2 - Rapid shooting with a "hasty" sling
Slings are also effective tactical tools, and there are multiple ways to do this. One is with a method called a fast sling, or hasty sling. The trick is to wrap the sling around your stabilizing arm, with the sling already shortened to exactly match the length from your bicep to the attachment point. This adds considerable stability in situations where you cannot use a bi/tripod, particularly in terms of preventing the muzzle from drifting upwards. Note: if you're planning on using your gun sling as a shooting aid, we highly recommend using a swivel sling mount so that it expands your range of shooting positions.
3 - Single point gun slings bring fast draws
Another option is to use a single point gun sling. These don't offer the possibility of extra stabilization, but they are excellent when you need to be able to bring your weapon to bear in the shortest amount of time. They ensure the weapon is always attached to your body, and ready to pull at a moment's notice without having to worry about getting tangled up. Plus, they usually include fast-release clips, so you can cut it loose quickly.
Trust the Mako Group
The Mako Group offers state-of-the-art tactical equipment and weapons accessories straight from Israel. We provide pioneering products for hunters, law enforcement and security, gun clubs and organizations, and enthusiasts that want the best the market has to offer. Browse our full catalog here, which includes products from top manufacturers like Meprolight and FAB Defense.