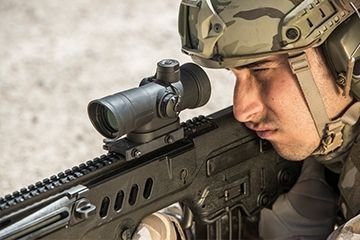 When it comes to advanced optics, it's hard to do better than Mepro. As one of the world's leaders in sights and optics, they supply directly to the IDF, as well as numerous other militaries around the world. When you buy Mepro advanced optics, you are getting top-quality gear which helps you accurately identify and pinpoint targets in any scenario.
For enthusiasts looking for a great performance and some of the best daytime vision on the market, it's hard to beat the Mepro 4X. This fixed-magnification 4X sight brings you plenty of bang for your buck, even as you enjoy gear that's been deployed around the world.
What Makes The Mepro 4X Special?
1. Amazing View
When you look through the Mepro 4X, the first thing you will notice is the amazing field of view and depth of field.  Few optical sights at any price point offer such a great view of the battlefield.  On top of that, you have your choice of reticules, including a chevron reticule, which are easy to swap out based on your needs.  IDing targets has rarely been as simple and painless as with the Mepro 4X.
2. Long Lifespan / Battery
You can also expect a long field-use lifespan from the 4X. It runs on a single standard battery and will provide many hours of high-performance usage. A smart auto-shutoff feature powers it down after an hour of non-use, helping to prolong the battery life.
3. Quick Release
Swapping it on and off of your hardware is easy as well, thanks to its quick release Picatinny adaptor.  This is a sight you can use across numerous different weapons.  Plus, build quality is just as good as you'd expect from Mepro.  This sight was built for harsh desert environments, and it can stand up to plenty of abuse.
4. Trusted by the Best of the Best
And, of course, the Mepro 4X is field deployed by the IDF and other armies, as well as meeting US MIL-STD standards.  If you need great daytime optics, you get everything you need in the Mepro 4X.
The Mako Group: Cutting-Edge Gear & Accessories
The Mako Group offers state-of-the-art tactical equipment and weapons accessories straight from Israel.  We provide pioneering products for hunters, law enforcement and security, gun clubs and organizations, and enthusiasts that want the best the market has to offer. Browse our full catalog here.
To learn more, just browse our optics or contact us with any questions you might have.