Just like any other community, there is a pretty decent online presence for shooters. From online forums/discussion boards provided by the Civilian Marksmanship Program for gun collectors as well as different types of competitors, to a Twitter account called @shooter_probz, shooters of all ages and interests can find a place on the Internet to discuss, read about and even buy what they love.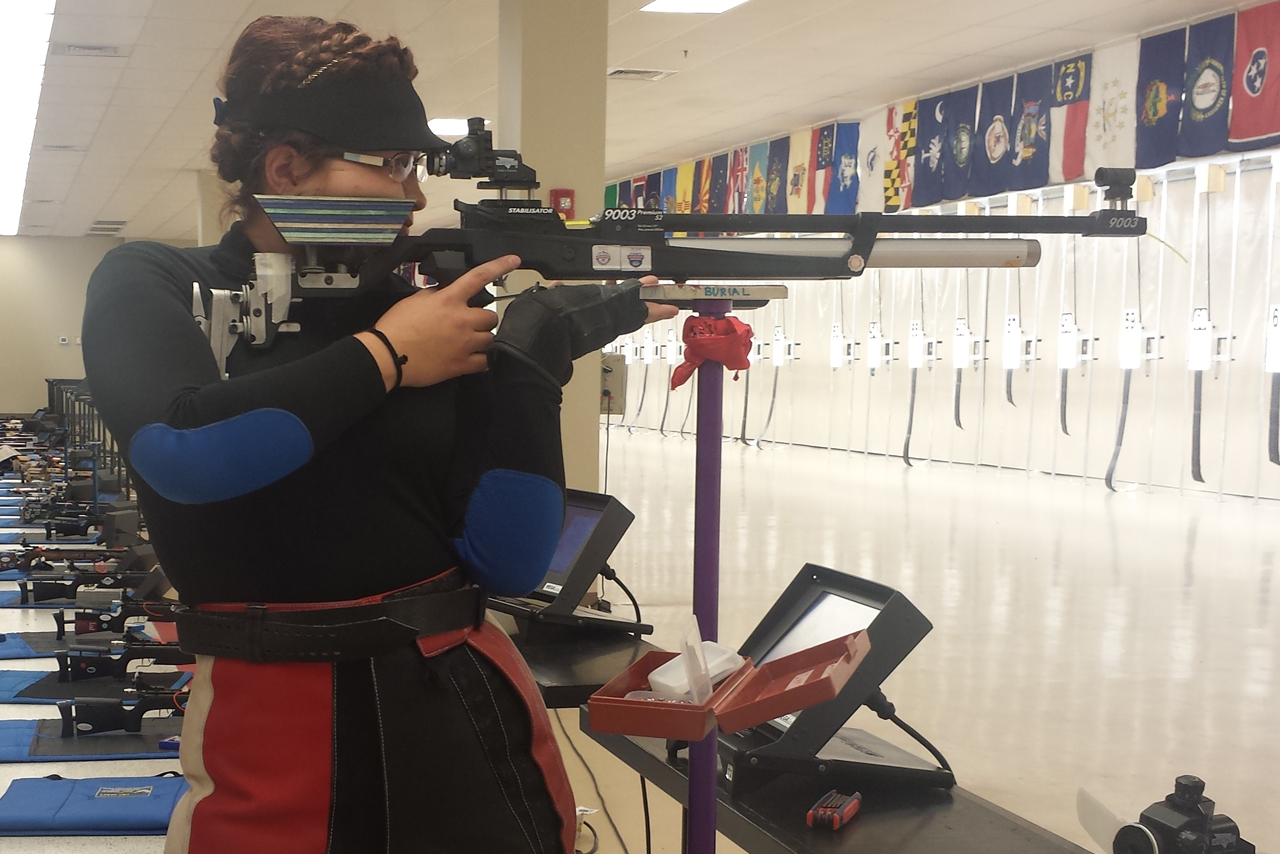 As discussed in an earlier post, what's great about the shooing community is everyone's friendliness and generosity. Shooters want to keep the sport alive and one of the best ways to do that is by encouraging new shooters to stay with the sport, and not let them get discouraged. Shooting happens to be a somewhat expensive sport, especially for new shooters who have to buy all of their equipment on their own. When a junior needs to purchase a suit, rifle, boots, off-hand stand, kneeling roll, sights, etc., the costs can add up quickly. That's why this website, is such a great asset to the shooting community. Often, upper level shooters will decide that it's time to move on to a new suit or rifle. Whether it's because they've outgrown their current ones or they just found something that they like better, higher level shooters (and even sometimes some up and coming ones) need to sell their old rifle so they can invest in a new one. Because shooters almost always take good care of their equipment, it's usually fairly easy to sell, but of course at a lower price. This, of course benefits both the seller, as they make some money as well as some room in their gear bag for new things, but it also benefits those young shooters looking to save a little money as they make their way in this sport. Many people will post their items for sale on target talk to make it easier for those newer shooters to find what they're looking for, equipment and price wise.
The three governing bodies of shooting also have a relatively strong online presence. The NRA regularly sends emails to its members, supports a few online magazines, and of course provides news and updates about current and potential gun legislation and more on its website...not to mention its online store and links to other blogs, discussion forums, and match schedules across the country. The CMP's biggest online presence is their collector discussion boards/forums and their selling of different guns, including those for collectors. The CMP also has a great online magazine as well as, like the NRA, links to matches across the country including information such as how to sign up and the final match result, as well as links to clubs that a shooter can join across the country. Finally, USA Shooting seems to have the strongest online presence with the younger community. This governing body of shooting seems to have tapped into social media and is using it to promote matches and create an image of shooting in a more realistic light: an Olympic sport with real people competing in it. The other governing bodies definitely also do this, but USA Shooting has the advantage of having this idea be its main focus, and it has taken it and run with it to good places. If you make the hashtag, they will tweet.
What is interesting, is the more anonymous individuals who have started to add to the online shooting community. As mentioned above, the Twitter account @shooter_probz was relatively popular for a short time until the account owner (owners?) stopped tweeting. No one seems to know who made this account, but it really brought some of the younger members of the shooting community together through short tweets that really hit upon small, funny, everyday problems that only a shooter could understand. Will more accounts like this pop up? Or does the future of the online shooting community lie in more structured, financially-supported websites and forums? It seems only time will tell, but I hope some more creative minds surface to add to the spread of the positive image of shooting as a sport, especially online where it will have the greatest reach.