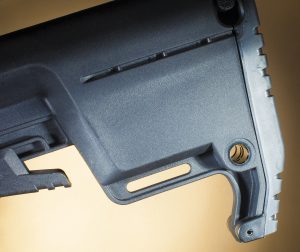 Stability is everything when you're trying to hit your target, and the right accessories for your stock can make all the difference!
Many longer guns already come with a stock, allowing it to nestle into your shoulder for added stability when aiming and firing.  In other situations, it's possible to add a stock to weapons that didn't originally have one, including handguns.  In either case, you've got plenty of options in stocks and stock accessories that will help your aim.
Let's for a second forget the unfortunate naming of these items and discuss their benefits…
Aim True - And In Comfort! - With Stock Accessories
1 - Buttstocks
Almost any stock coming off the back of a gun can be considered a buttstock, including ones already built into the hardware such as with rifles.  However, you can significantly increase your firing accuracy by adding a buttstock to your gun if it doesn't have one.
For example, the Cobra Quick Deployment folding stock allows you to quickly add extra stability to your Glock for extra-precise firing, while still being easy to collapse and transport in your equipment bag.  Or, pick up a Monopod buttstock for a simple one-piece stock add-on.
2 - Buttpads
If your gun has a lot of kick, that stock ramming back into your shoulder can start to hurt - which is why there are rubberized assault buttpads!  These attach directly onto the existing stock of your rifle, making firing far more comfortable and allowing you to put far more rounds into the target. If you don't have a good buttpad on your rifle, you're just making your life more uncomfortable.
3 - Cheek Risers
No, not those cheeks!  A cheek riser creates a stable surface you can lean your cheek against as you look down the sights, increasing your aim accuracy.  This is another simple, lightweight add-on that can significantly improve your shot placement, while also making your weapon more comfortable when shooting many rounds at once. Not everyone uses cheek risers, but they're an extremely affordable and lightweight add-on that's well worth picking up for your equipment bag.
Stock Up…with The Mako Group
The Mako Group offers state-of-the-art tactical equipment and weapons accessories straight from Israel.  We provide pioneering products for hunters, law enforcement and security, gun clubs and organizations, and enthusiasts that want the best the market has to offer.  Browse our full catalog here.