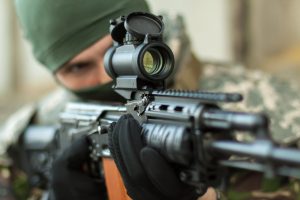 Apart from some traditionalists, iron sights don't often get much respect these days. After all, with high-powered optics and even sights with smartphone-enhanced live HUDs, who needs a set of backup sights?
Well, just about everyone. That's who.
Just because iron sights are old-fashioned, that doesn't mean they don't still have a place on modern weaponry. They're exactly the sort of "backup" insurance policy that can save your life.
Two Big Reasons To Always Have A High-Quality Set Of Backup Sights
1 - Batteries die
If your optics require power to operate, it's imperative to have a good set of backup sights on hand because you never know when something might happen to the battery. Even if you're scrupulous about keeping the optics charged, rechargeable batteries fail over time. They stop holding their charge for as long, then they stop holding it at all.
If you don't have a backup ready when the battery gives up (or if you just forgot to charge it) you're going to be in a lot of trouble.
2 - Iron sights can leave you less exposed
When you have backup sights with a tritium dot, you've got one of the least-visible "night vision" systems available. There's no red dot or infrared illumination that might give you away. Tritium allows you to see where you're aiming, but the glow is so small, weak, and cold that it can't be detected by anyone else.
Plus, tritium sights require no batteries, and are good for years.
The Most Important Features In Backup Sights
Proper rail compatibility:
Virtually all backup sights these days are built for pic rails, but make sure they'll fit your weapon before you buy.
Tritium sights:
As mentioned above, tritium sights are a must. It greatly improves accuracy in low-light conditions, without exposing you.
Easy finger-adjustment:
Good backup sights will have large, easy-to-find dials for adjusting the sights' aim, to minimize set-up time.
Spring loaded locking mechanisms:
Again, it's about ease of use. Spring-loaded locks mean your sights will be ready to use at a moment's notice - right when you need them.
Sturdy construction:
Your backup sights might go for a long time without seeing use. You need to know they'll still be working when you need them.
The Mako Group: Cutting-Edge Gear & Accessories
The Mako Group offers state-of-the-art tactical equipment and weapons accessories straight from Israel. We provide pioneering products for hunters, law enforcement and security, gun clubs and organizations, and enthusiasts that want the best the market has to offer. Browse our full catalog here including new product categories including tactical knives and watches, and camping and outdoor gear.