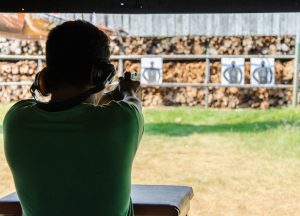 Whether you manage a gun club and want to spice up your shooting range, work in the security industry and need something more robust for tactical practices, or you are looking to take your own setup past the bullseye papers, reactive self-healing targets are the ideal upgrade. Take aim at enhanced shooting targets for a better investment.
Why Reactive Self-Healing Targets Have Gained in Popularity
1 - Use them over and over
As the name suggests, self-healing targets have high levels of reuse. They're made of a special expanding foam which simply fills in the holes made by bullets, leaving almost no trace. To be clear, they'll wear out eventually, but they can take hundreds or even thousands of rounds before you finally need to swap a target out.
2 - No ricochets
Self-healing targets are specifically designed for safety. Unlike most traditional stand-up targets, there's no metal pole in the middle - they only anchor at the base.  This greatly reduces the chances of any ricochets or other mishaps endangering the shooters.
3 - Reactive targets make for more interesting shooting
These targets use smart joints which will cause the target to drop once it's been hit, eliminating any question of whether a bullet found its mark. This means you can set up much more complicated and interesting shooting scenarios, such as dropping all the targets within a time limit, that are hard to accomplish with standard paper targets.
4 - Color-coding adds more options
These reactive self-healing targets come in a variety of colors, including black, white, red, blue, green, and yellow. This is another way to add variety to your shooting setups, such as restricting players to only shooting targets of specific colors. It's a great way to train proper target identification while under pressure.
5 - Add-ons add to the fun
There are numerous other optional upgrades to these reactive targets available, including hit counters, and even an audio device that causes the target to scream when hit - perfect for judging whether a shot found its mark from a long distance.
Related Post: Be Prepared. Camping & Survival Gear That Weathers The Elements
The Mako Group: Top Online Source for Self Healing Gun Targets
The Mako Group offers state-of-the-art tactical equipment and weapons accessories straight from Israel. We provide pioneering products for hunters, law enforcement and security, gun clubs and organizations, and enthusiasts that want the best the market has to offer. Browse our full catalog here, which includes products from top manufacturers like Meprolight and FAB Defense.
To learn more, contact us with any questions you might have about self healing targets.